Social Media Week (SMW) Lagos produced by AFRIKA21 and Dragon Africa returns to Nigeria celebrating their 5th year anniversary hosting the weeklong global event in Africa. Taking place in Lagos from 

February 27 – March 3rd, 2017

, this year's event is sponsored by several international and African organizations including Facebook, the Dangote Group, Samsung Electronics West Africa, MainOne, General Electric, and Nestle/Nescafe.
Under the global theme of "Language and The Machine" and hosted simultaneously in 3 international cities including NYC and Hamburg, SMW Lagos has evolved the global theme into The [new] Language of Technology: The Future of Communication in Africa". Under this theme SMW Lagos will explore how technology is creating a "new language" and way of communicating in Africa and what this means for the future of communication across the Continent.
Lagos is the first African city to host the annual event, and remains the only African city to host the weeklong global conference.  To date over 60,000 people have participated in SMW Lagos with the 2016 event owning a social reach of 810 million. This year SMW Lagos anticipates over 15,000 attendees across the week.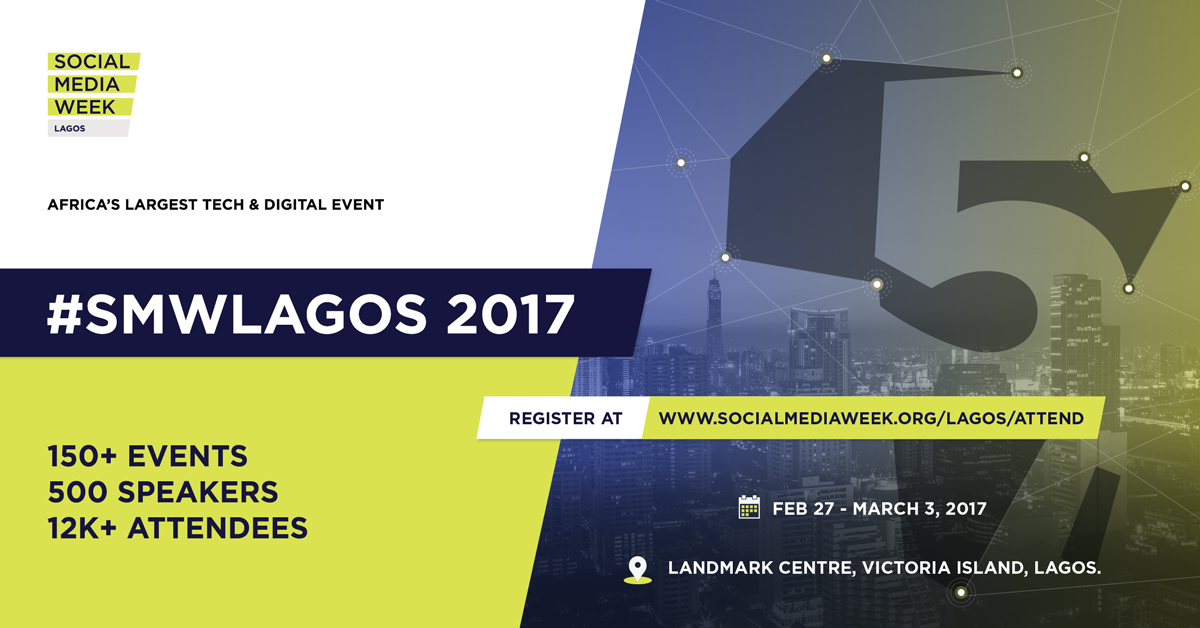 KEY EVENT HIGHLIGHTS 
Opening Day Keynote: The Future of Media  –

Monday, 27 February, 10:30am
Location: Innovation Stage Powered By VISA
Following in the footsteps of Facebook CEO Mark Zuckerberg, Chris Cox, Chief Product Officer for Facebook will also make his debut trip to Nigeria and he will deliver the keynote presentation for the SMW Lagos focusing on The Future of Media
Future of Media Summit –

Monday, 27 February

 
Hosted by CNN, The Guardian Nigeria, Pulse NG, and facebook

Location: Innovation Stage Powered By VISA
#travelafricaday –

Tuesday, February 27
In 2016, SMW Lagos launched Travel Africa Day (#TravelAfricaDay) to both promote travel to cities across the continent and celebrate the African experience. #TravelAfricaDay seeks to use social media as a platform to broaden the conversation around travel to/within Africa and it's capacity to be a key economic driver for all 54 countries.
Hosted by Amara Suites, RYNO and AFRIKA21
African Women in Tech Day –

Wednesday, 01 March
SMW Lagos is committed to ensuring women are an integral part of conference programming and ongoing initiatives. In partnership with The Dangote Group and She Leads Africa SMW Lagos debuts it's African Women In Tech Start Up Alley showcasing innovative women-led tech startups. Additional programming provided by partners.

Hosted by BBC, The Dangote Group, Purple/DFID // Location: Experience Stage Powered By Purple
BeatFM Music Day –

Wednesday, 01 March

 
Location: Innovation Stage Powered by VISA
Governance Day –

March 2, 2017
Hosted by USAID/Nigeria SACE 
Location: Innovation Stage Powered By VISA
Open Campus (#smwopencampus) – Daily
As part of our commitment to give youth greater access to tech focused education and digital tools we launched #smwopencampus.  For SMW Lagos 2017 we are opening up our campus to secondary and university students via our #smwOpenCampus programming track.  Students will have the opportunity to take a tour of the SMW Lagos Campus and attend a session from a curated list of programming. The session will be followed by a meet and greet with the SMW Lagos team and a key speaker.
Learn digital skills to take your career or startup to the next level. Led by developers, tech gurus, and design evangelists these hands-on in-depth workshops are the hottest tickets in town.
Afrobeats & Eats Nitefest –

Wednesday 01 March
We know that some of the best conversations happen over a shared meal. We also know that music often serves as the soundtrack for some of our most memorable moments. Why not pair the two together for an epic evening of unforgettable food, music and game-changing connections. We'll close out Digital Music Day with a gathering of Africa's Best in Class.
Hosted by TRACE // Location: SMW Annex
#SHOPAFRICA –

Thursday, 02 March
For #smwLagos 2017 we're expanding our #smwLagosNites programming to create more opportunities for networking and collaboration, while showcasing the creatives that make Lagos one of Africa's most dynamic cities . Across the continent fashion, specifically our garments (traditional or not) are an integral part of every important occasion and #SMWLagos is no different. Fashion will take centerstage at SMW Lagos 2017 at the #SHOPAFRICA ShopUP, where attendees get to shop and mingle with the online brands they follow, "like" and love.
Hosted by BellaNaija and TRACE // Location: SMW Annex
A Great Day In Gidi –

Friday, 03 March
A Great Day in Gidi' is a gathering of Lagos most innovative minds in the tech, media & creative space. From Industry Stakeholders to Digital Activists to Celebrity Bloggers, 'A Great Day In Gidi' is a snap shot, of the individuals who collectively are re-defining Lagos and Africa in general. It's a celebration … be prepared for the most epic day party EVER!