Only 90's kids will remember these pictures. Only in their minds and hearts will these images strike a chord. And of course, their parents and older siblings. And the telcos. Yes, the telcos. The MTNs of this world, the Econet, sorry Buddie, Vmobile, Zain, Airtel, phew, yes Airtel.
That 0802/0808-etc line you are using now has a lot of history to it. But we'll revisit that another day. And finally, the Globacoms of this life; the Per second billers that changed the face of mobile communication and its pricing.
Makes me wonder now why they still have fewer subscribers on their platform – or so I think. Again, story for another time.
---
Lagos was not fully dressed until the phone call lady/gentleman setup their big (yellow for MTN, green for Glo) umbrella in all its glory every morning as some of us made our way to school. That umbrella signaled the start of a new business day. It said "make your phone call here!" N50 per minute at first and even that meant 00:15 = 50naira (Around 17,500 dollars. Lol. I couldn't help it) and then like the power supply of 2016, it began to lose momentum; N40/Min, N30/Min and N20/Min – a threshold it has not gone below since the mobile means of communication was introduced to Nigeria. Only the landlines were N10/Min.
That was not less than ten years ago.
The now famous queues in the banking hall were the usual at a call centre where customers knew the lady's network was 'strong'. Or if her umbrella was big enough to shield you from the Lagos sun or rain.
The now famous queues in the banking hall/atm's were the usual at a call centre where customers knew the lady's network was 'strong'. Or if her umbrella was big enough to shield you from the Lagos sun or rain.
You could never go wrong with a long bench or some nice white plastic OK! chairs for comfort. It also helped if there was a "buy your cold drinks here" stall nearby. There weren't these many women hawkers on Lagos roads. Especially the women selling frozen (blocked) LaCasera in traffic. No; back then, they were more stationary. Catering to phone calls, recharge cards and drinks to sip on while you made that recharge. Sometimes, they took a message for you if the person you called at their booth called back.
Ladies and gentlemen, people also took turns to receive phone calls from their lovers in the abroad. The onus was on the call centre lady to charge her own phone to death. "Aunty I go come receive international call tomorrow o. Charge your phone well o".
Just the same way people had to go all the way to a Cyber Café to chat. Yes.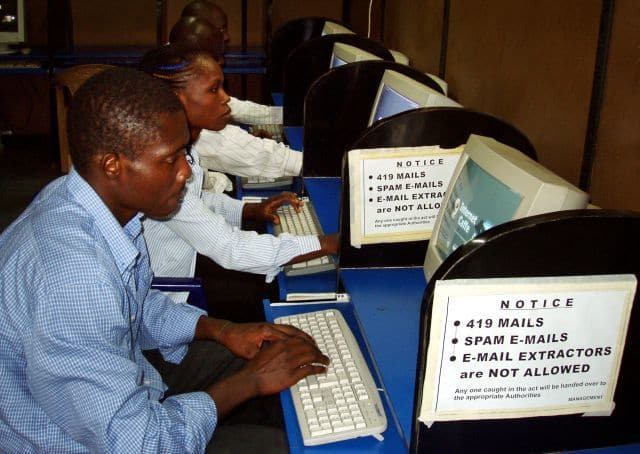 You are minding your business in the room filled with about 20 computers as you prudently use your 30minutes that have just cost you N150, when you'd hear, "BUZZ!" Hello, Yahoo messenger! That sound would also make a vibrating sensation and it signaled the fact that someone was exchanging IM's. A ping meant a lot back then. So did smileys. There seemed to be more depth in the use of these forms of expression that we might either have overused in this age or are simply taking for granted. You had to go to the cyber café to send an email or meet friends online. It was an actual journey and if you were not careful and had roving eyes, you would see some people viewing stuff not fit for print this warm Friday afternoon.
And just like the women were more recharge card and drink-centric, the men, the guys were the ones operating cyber cafes. And they had such remarkable customer relations. If you didn't know how to either login your internet minutes and stuff, they would help ever so charmingly. They would also help some unlearned customers login to their emails and they would look away when you wanted to put in your password. That whole "looking away when it's time for password" thing originated from them. No contest! There is so much more I want to say about the cyber cafés and how they grew extinct right before our eyes, but that would be overstating the obvious.
Oh, lest I forget, some people spent the whole day in front of a cyber café computer while some others actually kept vigil o. They called it "midnight browsing" and it was way cheaper than daytime. I began to notice after a while how some of the guys who visited the café were remarkably good looking and oozed of perhaps the same perfume; plus they suddenly had a thing for the Honda car brand. The Honda 'Halla', 'Bulldog' and 'Baby boy.'
…to be continued.