It is about that time of the year when we expect TECNO mobile to introduce their flagship device into the Nigerian market. Just as I was thinking….. I came across a post on TECNO's Facebook page which hinted that the new Phantom will be announced any time from now.
The interesting thing about the signal is that two Phantom smartphones will be announced and they are – TECNO Phantom 6 and Phantom 6 Plus
I immediately shared this with a friend and his response made me chuckle – "Phantom 6 Plus? Tecno will not allow Apple and Samsung rest"
Of course I understood what that statement meant, TECNO has been known for what Nigerians call 'copy copy', an almost direct imitation of Samsung's Galaxy and Apple's iPhone in terms of specifications and design. A very recent example is the design of the Boom J8 which looked like the iPhone and the introduction of its new UI named HiOS which is pronounced as Apple's iOS.
Now they have taken after the naming tradition, 'Plus' which implies a bigger size than the normal product.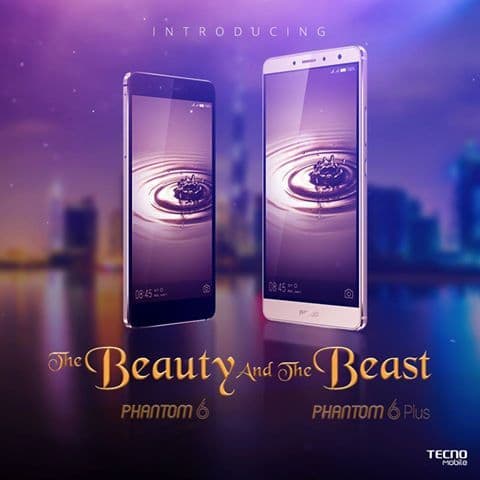 The creative on social networks was tagged Beauty and the Beast – beauty represents the Phantom 6 but am left wondering what beastly feature to expect on the Phantom 6 plus apart from the big size. I began to ponder on what specs is left that TECNO has not added to its devices – first I am sure it will come with HiOS, TECNO's proprietary UI skin, we've had Finger print scanner, metallic body….. so the Phantom 6 may be water resistant and must have a very good camera (we have waited too long for this)
Evidently the Phantom series are usually very competitive in terms of specs and most importantly, pricing when compared to Samsung and Apple so I am not expecting less.  Besides 'who wants to buy a 350k phone in this Buhari's economy?' LOL
Rumours have it that the TECNO Phantom 6 may come with dual camera, 4GB of RAM and MediaTek's Helio X20 processor.
The Phantom 6 plus on the other hand is also rumoured to come with a single 21MP rear camera – very well then, I have an idea where the 'plus' suffix originated from. This reminds me of Microsoft Lumia 950 with 20MP camera and pure view technology so for TECNO to add a 21MP camera, sigh!! To whom much is given, much is expected.
No words on pricing yet, just as other specs are still rumoured but I am certain it won't come in the range of the iPhone 7 or the exploding Galaxy Note 7.
Apparently I have a concern – TECNO phones are becoming increasingly pricey.
We will keep you updated as more details come in.