Just as the name implies, the Aspire Switch 10 E from Acer is a hybrid Laptop and tablet which can easily switch depending on what you want to use it for, using a dock mechanism. Similar to the TECNO WinPad tablet which also uses a dock mechanism, the tablet and keyboard are held together by a magnetic hinge.
This Windows 10 computer also passes to be called a convertible, apart from its ability to use it as a tablet separately, it can be used in different modes including stand, tent, tablet and laptop mode which makes it a very versatile hybrid.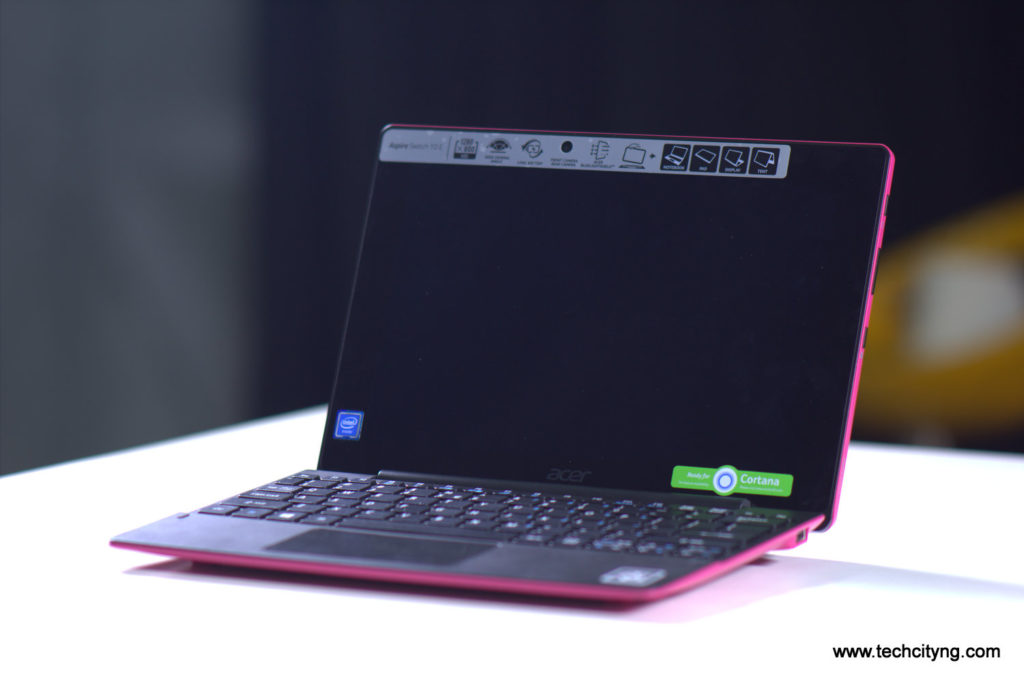 The Acer Aspire Switch 10 E is considerably affordable with its plastic build which makes it feel like a low quality device, tablet feels very comfortable to hold except for the fact that it is heavy.
The tablet portion is far heavier than the keyboard, well expected because the battery and the Intel chips are all pack on board.
Design
When docked together, the 10.1 – inch Switch 10 E makes a compact laptop which can be carried around easily and used as comfortably as placing it on the lap. The top and bottom lid are textured for better grip. The tablet is heavy which may lead to the computer tipping over if opened to the hinge limit.
Both tablet and keyboard are held together by a strong magnetic hinge and can be detached by pulling both tablet and the keyboard to use them separately.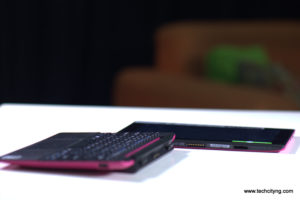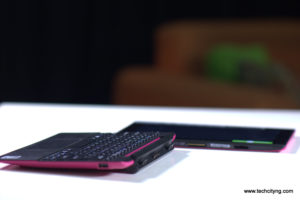 The hinge has a limit which doesn't allow it turn the whole 360 degrees, however this limitation does not take away versatility of using system modes.
The modes available are the traditional laptop mode, tablet mode (tablet detached or attached), tent mode and display mode. I personally prefer the display mode to laptop mode for watching videos because of the ease at which it can tip over and the fact that the keyboard isn't placed on the surface as it is obtainable on the HP Pavilion X360 stand mode.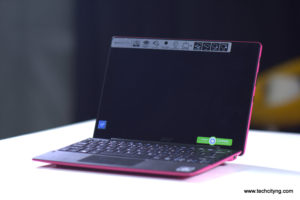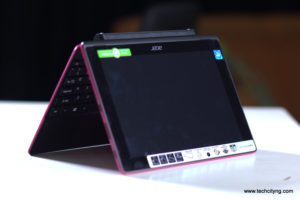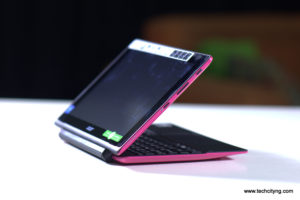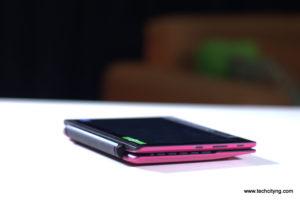 The tablet portion of the computer has a 2MP front camera and a 2MP back camera, both cameras can be used if the device is on a PC mode or a tablet mode.
Display
The pixel resolution of the Aspire switch is 1,280 X 800, while it is arguably small, it delivers a sharp and bright display. Aspect ratio is 16:10 which will enhance display of documents and web pages. Viewing angles is good and the touch screen is responsive. There is an Extra-Contrast mode which one can use when outside with the computer.
…and there is an extra 500GB storage
If nothing excites you about this Aspire Switch 10 then this should, this model has a 2GB RAM and an onboard storage of 32GB (almost half has been used up by the operating system) but it does not end there. There is an extra 500GB space which is packed onto the keyboard as an addition to the 32GB on the tablet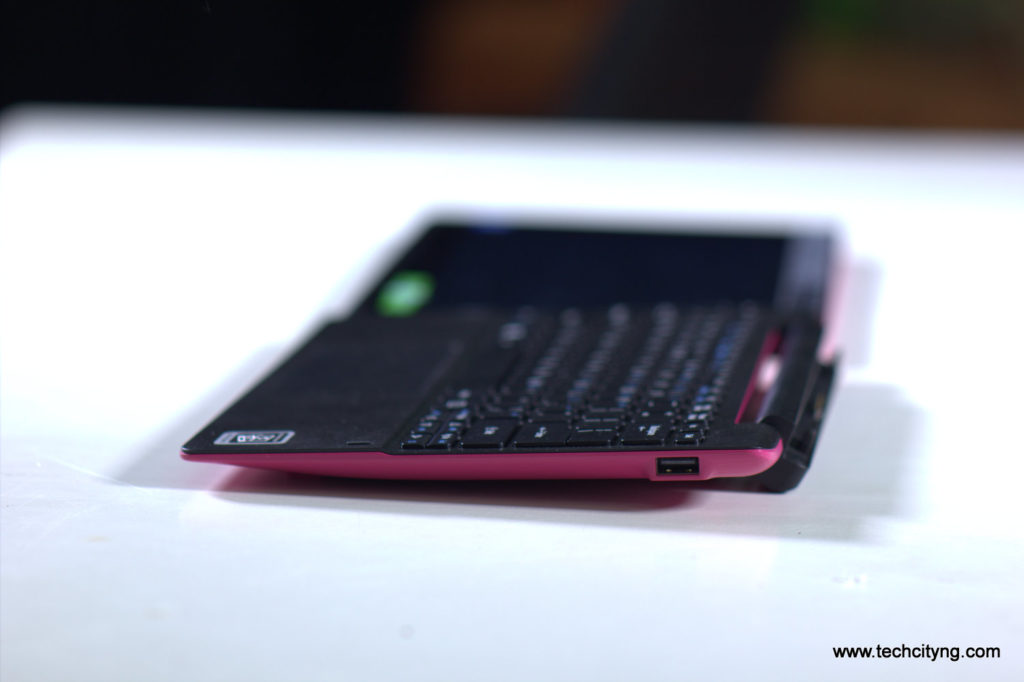 Adding this extra memory is laudable, the Switch 10 E wins on this one because most tablets are maxed at 64GB of storage and probably complemented with a microSD slot to give users more memory space. This device has an expandable storage option up to 128GB with a memory card plus a 500GB hard drive space on the keyboard….that's a lot of memory for a convertible.
Putting a memory space on the keyboard of this device brings some level of data security concern, will the data saved on it be accessible if another tablet is docked on it? Just like accessing the files on an external hard drive on any PC. However there is a security feature which automatically locks the hard drive when the tablet is detached from the dock so i expect that to provide a certain level of security.
Connectivity ports
The Aspire Switch 10 suffers from the lack of full sized ports and connection, all the ports are positioned on the tablet half of the device except for the USB 2.0 port which is built on the right hand side of the keyboard.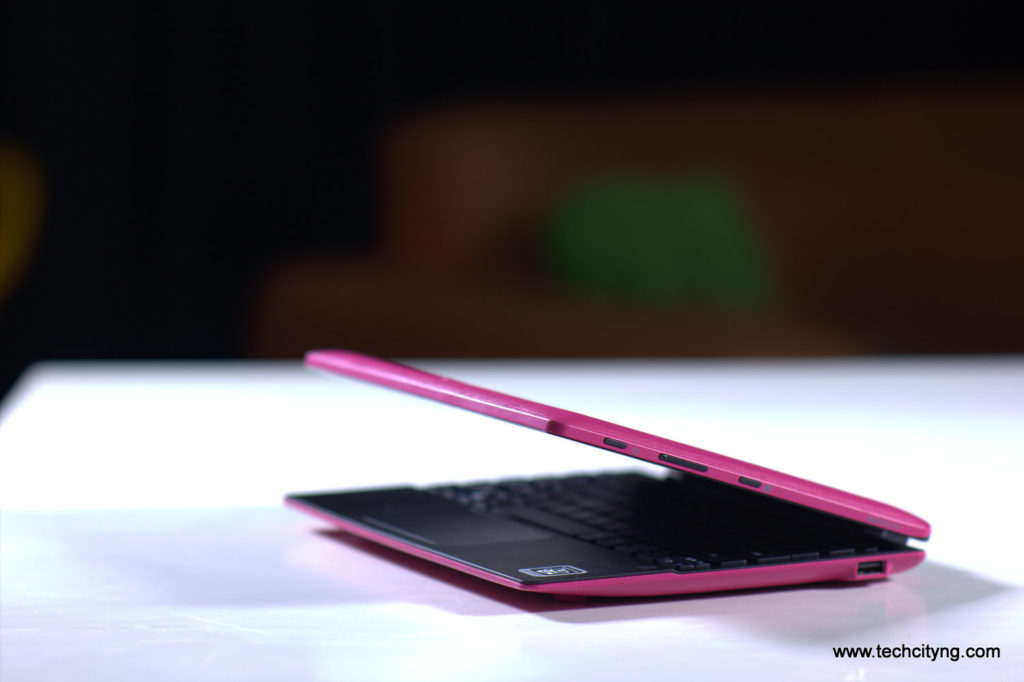 Power button, volume rocker and a Windows button (which functions as start menu) are placed on the right side of the tablet while the MicroSD port, headphone jack, mini-HDMI port and micro-USB port are found on the left side.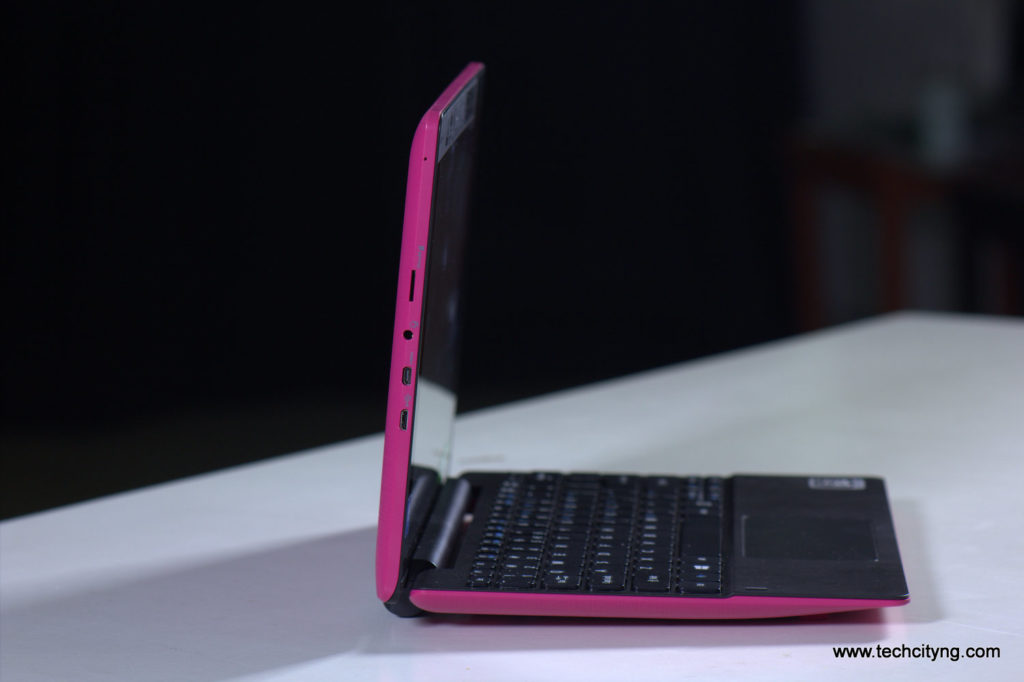 The micro-USB port is also used for charging.
Performance and battery life
Acer Aspire Switch 10 E is fitted with a quad-core Intel Atom processor with Intel HD Graphics, this Intel processor is a low power CPU but it obviously doesn't seem like that during use as it is fast and takes care of everyday task and basic productivity. This device is not the type which can be used for tough task like photo editing, video editing or playing heavy games.
Battery is not removable as it is housed within the tablet half of the computer, a reasonable and good battery life was obtained all thanks to Intel's power efficient chips for low power computers like this.
The Aspire Switch 10 E is a portable, easy to carry around laptop which can be tucked into a bag or backpack and used as a secondary computer to get basic work done and remain productive if one is travelling and doesn't want to carry a full-fledged laptop. While it may not be able to deliver on heavy task such as video editing and photoshop, its Intel Atom processor allows it carry on with basic task and productivity requirements.
After using the device, it tilts more to the side of being a tablet than a laptop. However the idea of gifting this tablet an extra 500GB of space is laudable. Currently, tablets comes with limited internal storage